Unified Multi-Cloud Network as a Service with Alkira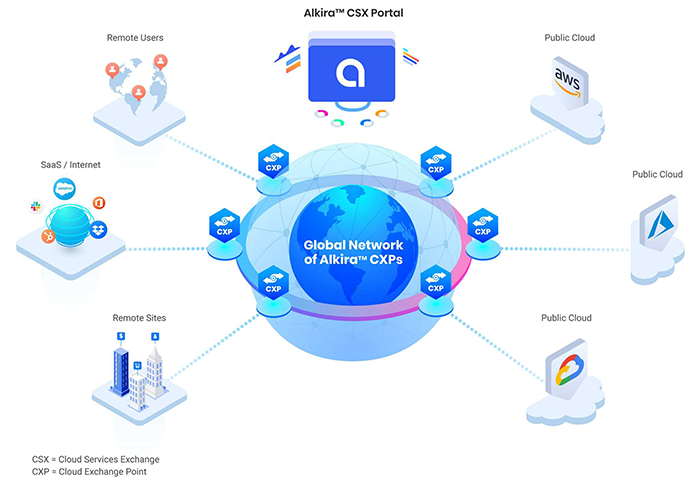 Multi-cloud networking is the ability to extend networking and network services capabilities across the multiple public cloud network providers. Used by the majority of mainstream enterprise companies today, its use is strategic, allowing enterprises to use multiple cloud providers to meet different technical and business requirements at the lowest cost while avoiding vendor lock-in. Multi-cloud networking concepts can also be equally applied to a single cloud deployment.
The use of Multi-cloud generates a need for robust cloud management solutions. Having a holistic cloud management strategy before deploying into the cloud is ideal, but many companies take an ad hoc approach, adapting as their needs change over time. Cloud management solutions are typically software based and allow, in theory, your teams to deploy consistent network and security policies across multiple cloud providers. 
Management of multi-cloud solutions becomes key, especially with enterprises wanting to retain all of the agility cloud providers offer. As companies embrace SD-WAN, cloud connectivity, security and management come to the forefront. Companies have a need for a single management platform that controls connectivity and security policies across the Multi-cloud environment. 
At EOS, we are always at the bleeding edge of new technologies and innovative solutions. Leveraging our vast LAN and WAN expertise along with the latest in SD-WAN and Multi-Cloud technologies, our teams are ready to assist you on your journey. 
We have partnered with Alkira to bring you the latest innovative solutions for Multi-cloud connectivity and design.

Alkira was founded in 2018 with an ambitious mission to reinvent networking for the cloud area. To that end, Alkira Cloud Services Exchange is one of a kind global unified network platform delivered as-a-service. It offers consistent and drastically simplified networking experience for on-premise, cloud and multi-cloud environments with integrated network services marketplace, operational visibility and governance. With Alkira, your entire end-to-end network is drawn on a digital design canvas, provisioned in 1-click, and is ready for use in minutes. No hardware to procure, no software to download, and no cloud to learn. The Network, Reinvented for Cloud.
To learn more about the Alkira Solution and to request a demo please visit alkira.com.