EOS IT Solutions supporting organizations adapt & embrace 
the new normal with LG Electronics

The coronavirus has highlighted the importance of innovative and digital technology, which is essential for business survival across all industries.  
The Covid-19 global pandemic caught many around the world by surprise, never having guessed such an event to occur in their lifetimes. It has forced people to incorporate new precautions and lifestyle changes into their daily routines. However, aside from mere personal life alterations, Covid-19 has also greatly affected businesses in many industries.  In the early stages of the pandemic, it resulted in businesses forced into seeking out various methods of technology that would allow staff to continue working productively and securely from home.
Now businesses are preparing to introduce a hybrid working model, which will mean bringing a limited number of employees back to the office at a given time, to comply with social distancing guidelines, and to reduce contact.  
There are a number of steps to take between working from home and a fully hybrid return to the office and it is technology that plays a vital role in setting the foundations that will enable organizations to do so. The introduction of new technology such as video collaboration, touchless technology, and detection monitors are fundamental to ensure employee safety and to continue collaboration and productivity within the workplace. 
Our collaboration with LG Electronics and our expertise in international deployment has enabled us to grow together and most importantly provide our customers with the latest intelligent solutions, that are equipped to support the remote working environment, a hybrid office as well as the open workplace.   
Below we introduce to you just some examples of these intelligent solutions that are available to support and help organizations make the digital transformation in response to a global pandemic. We'll also introduce the new suite of digital signage packages that allow businesses to dynamically communicate their policies, sanitization standards, and real-time updates.
LG Intelligent Solutions
Keep Data Secure & Productivity High with VDI Cloud Monitors
Whether team members are working from a home office on secure tasks or working in a remote office LG's Thin Client and Zero Client all-in-one cloud endpoints can empower employees with secure cloud computing. Featuring crisp, IPS screens in a virtual desktop infrastructure, team members can access the applications and data they need to do their jobs. IT can provide support remotely, and vital corporate data is not stored on the device but housed in your on-premises infrastructure or in the cloud.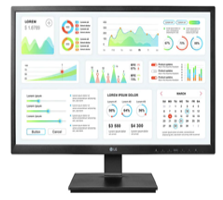 Expand Communication with UHD Digital Signage
Video conference with remote employees directly from the conference room with LG's digital signage content delivery and presentation capabilities. Select models of the LG UHD IPS digital signage displays are Crestron Connected® certified and Cisco Room Kit compatible for virtually seamless integration, automated control, auto on/ off, and full functionality via Ethernet. Barco's unique solutions with LG displays enable sharing ideas and content from remote participants (PC, Android, Mac, iOS) onto a main presentation screen.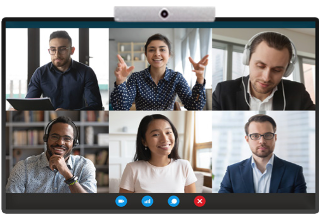 Power-Up Collaboration with Interactive Digital Boards
Enhance meeting capacity, increase engagement, and facilitate remote collaboration with LG Interactive Digital Boards (IDBs) powered by webOSTM Signage. LG IDBs support multi-touch and writing functions, screen sharing and mirroring the display to participants' laptops. With automation by Crestron, the meeting leader is free to focus on leading and managing the content and flow of ideas, while keeping participants involved with multi-directional communication and interactive participation.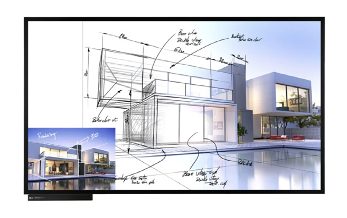 Built for Business
LG also launched its suite of digital signage packages known as LG Health Protocol Solutions that were created not solely for the office but built with all businesses in mind. These products were designed to increase customer and employee safety within a multiply of environments, such as retail and health.  Their key areas of focus included Wellness Kiosks, Occupancy Management, Compliance Signage, Interactive Solutions, and Meeting Solutions.
* LG is only a provider of the display portion of the Health Protocol Solutions. All other parts of such products are third-party products and the final product is developed, assembled and sold by third-party manufacturers. Health Protocol Solutions are not LG-branded products.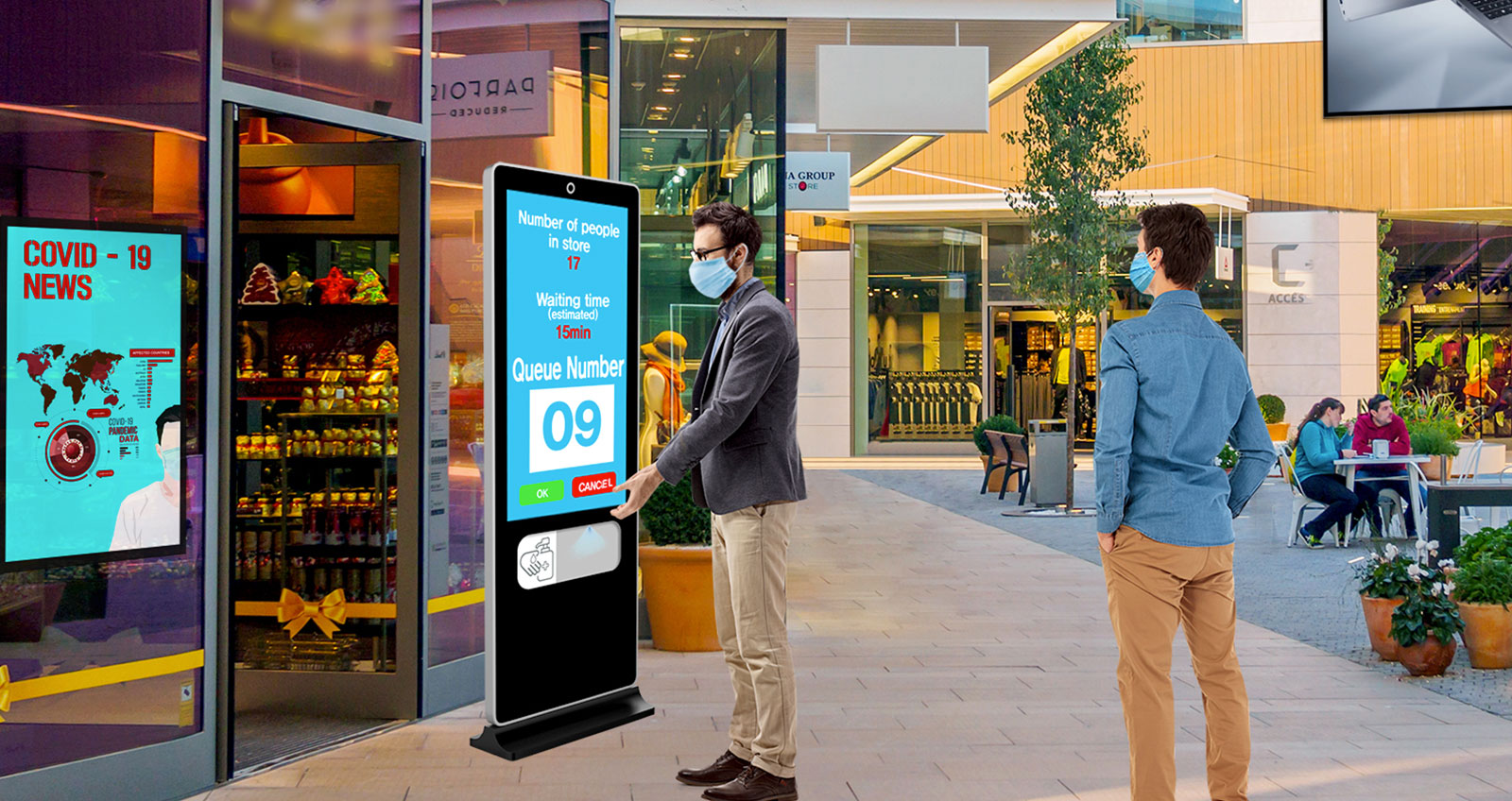 Wellness Kiosks – All-in-one kiosk that provides customers and employee with hand sanitizer, PPE dispenser, temperature screening, and dynamic health and business information.
Occupancy Management – Provides turnkey occupancy management and access control that includes people counter, cleaning protocols as well as bathroom facilities messaging.
Compliance Signage – Combines an LG signage with a portable A-frame stand and battery power to deliver critical messaging, including social distancing protocols, capacity and other information such as QR code to allow patrons access to a menu from their smartphone.
 Interactive Solutions – Deploys a variety of solutions as well as the ability for touchless engagement using any smartphone to increase employee and customer confidence and safety.
Meeting Solutions – Addresses the "new" office work environment, so participants can adequately social distance and connect with remote individuals using industry-leading video conferencing technology.
We're proud to partner with LG Electronics, which provides these powerful and intelligent solutions to help organizations navigate their way through the new normal.
It is through technology that we as a world, have been able to continue to work productively and to accomplish what we thought may not have been possible pre-covid. The covid-19 pandemic has certainly impacted both individuals and businesses alike, however, these changes compel innovative solutions that support and have strengthened our ability to adjust to such obstacles.
Allow EOS IT Solutions and LG Electronics to improve and evolve your business through technology.  With our 35-year heritage in global logistics, EOS has the capabilities and competencies to meet clients' IT requirements and expectations on a global scale.  
To discover how EOS can support your business contact our team today or for further information on LG products visit https://www.lg.com.