EOS IT Solutions receives three Americas West Area Awards
at Cisco Partner Summit Digital 2020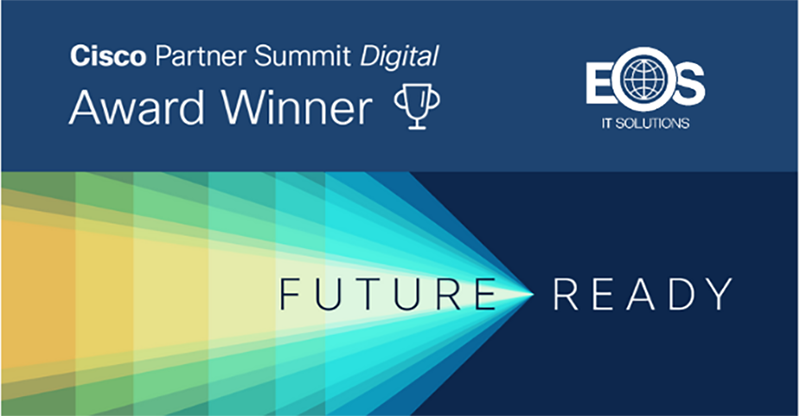 This week at Cisco's Annual Partner Conference, EOS IT Solutions was honored to receive three America's West Area Awards, being:
Americas West Area Service Provider Partner of the Year,
Americas West Area Software Partner of the Year 
Americas West Area Technology Excellence Partner of the Year: Collaboration
for their innovation, leadership, and best practice as a Cisco business partner across the America's West Area. Bryan Osoro, Vice President of Sales accepted the awards on behalf of the company which was recognized for its earned reputation of delivering at scale, exceptional service, and years of technical expertise. EOS' continuous focus on innovation and improvement provides a high touch support model across every function. The company's heritage in global logistics showcases their capabilities and competencies to meet clients' IT requirements and expectations on a global scale.  They are a true International IT provider and are proud to deliver their services through global simplicity with trusted transparency.
"EOS is both thrilled and humbled by receiving three prestigious Americas West Area Awards in the 2020 Annual Partner Conference. Our long-lasting Cisco Gold Partnership inspires continuous growth and contributes to the joint success of Cisco and our customers, whom we celebrate these acknowledgments with. A huge thanks to all who contributed to this achievement – we can't wait to see what 2021 will bring!"
– Brendan Strain, COO EOS IT Solutions
Cisco Partner Summit Digital Theater/Area awards reflect the top-performing partners within specific technology markets across the West Area. All award recipients are selected by a group of Cisco Global Partner Organization and regional and theater executives.